Cnr Hendrik Potgieter Rd & Van Staden Rd – Roodepoort
Last updated: 17 July 2020
Coldstream Office Park is located adjacent to Hendrik Potgieter Road, at the intersection with Van Staden Road. The site falls adjacent to the future intersection with the PWV5 and Hendrik Potgieter Road, which will imbue the site with exceptional access once this road is completed.
The Coldstream Office Development property is zoned Business 1, allowing offices and other uses, with a floor space ratio of 0.6, a two-storey height restriction and parking requirements of 4 bays per 100 m2
Three linked buildings were developed on the Property, taking advantage of the unparalleled views across the Magaliesberg. The buildings enclose a courtyard with 3 separate entrances and staircases, each entrance in itself being a glass architectural statement. Three buildings combined will measure some 3,700 m2 of office space.
The parking has been allocated on the basis of of 5 bays per 100 m2 of office space, with 63 bays provided in the basement, and 114 bays either in the open, or under shadecloth.
The buildings have a modern character, with brickwork, sandstone, steel and glass exteriors. Windows are large to take advantage of the views as well as to create an open, bright atmosphere, under a high, dark-tiled roof.
Each office entrance has its own front door off the main lobby of the office block, conveniently situated with regard to visitors and parking access points.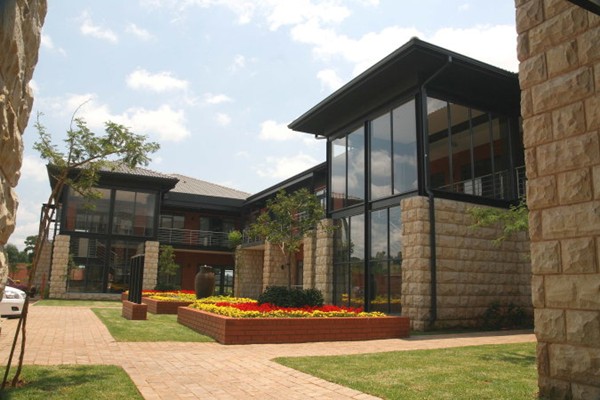 Whether you want to arrange a viewing, speak to our sales team or are wanting to find out more about a property, you can fill out the form below and we will call you back
info@brydensgroup.com | 011 463 5455